So I just took over Rosenborg in Norway...
Whenever I take over a managing position at a club, I always evaluate the staff members, especially the coaches. I'm very picky on that area as I can't stand having coaches who aren't top rated. And since I've made this tool to assist to find these coaches, I had to provide a small guide on how to use it. First and foremost, for reference, the key attributes for every coaching category:
DLM is an abbreviation for the mental key attributes Determination, Level of Discipline and Motivating. They are added together and combined with coaching attributes to make up the formulas for the star ratings
| | |
| --- | --- |
| Strength: | Fitness, DLM |
| Aerobics: | Fitness, DLM |
| Tactics: | Tactics, DLM |
| Ball Control: | Mental, Technical, DLM |
| Defending: | Defending, DLM |
| Attacking: | Attacking, DLM |
| Shooting: | Attacking, Technical, DLM |
| Shot Stopping: | Goalkeepers, Tactical, DLM |
| Handling: | Goalkeepers, Technical, DLM |
Reviewing my current coaches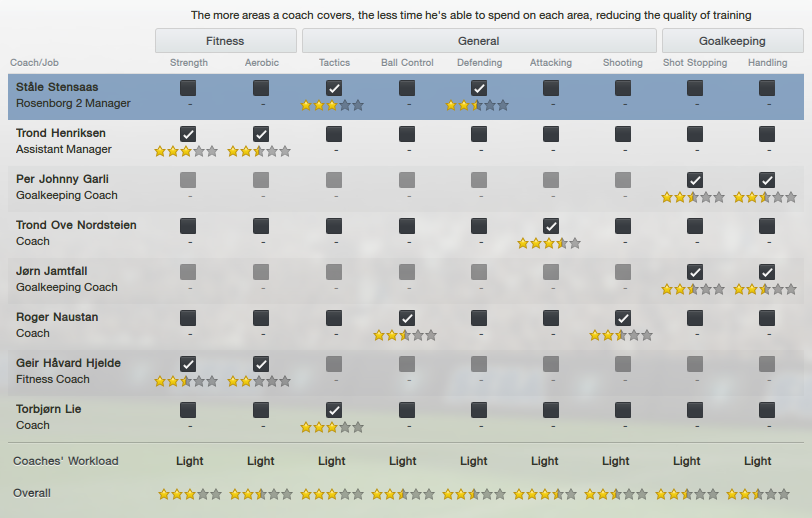 Looks decent enough, although I want to hire some new faces. For the sake of this guide though, I'm only going to hire two new coaches. One to replace the Tactics coach, and a brand new Ball Control coach to ease the workload off Roger Naustan. Starting off with the new tactics coach, I know that the main coaching attribute I'm looking for is Tactics - obviously. To narrow the search down, I'll filter by that attribute and sort the results by it.
Searching for a new coach, sorting by the Tactics attribute.

Ørjan Berg stands out from the crowd, but I'll run the lot through the Screener to make sure he is the best alternative and to see what they all rate as in the various categories. Refer to the exporting files from FM guide for information on how to export views from FM. I will export each of these coaches one by one and run them through the screener.
Results from screening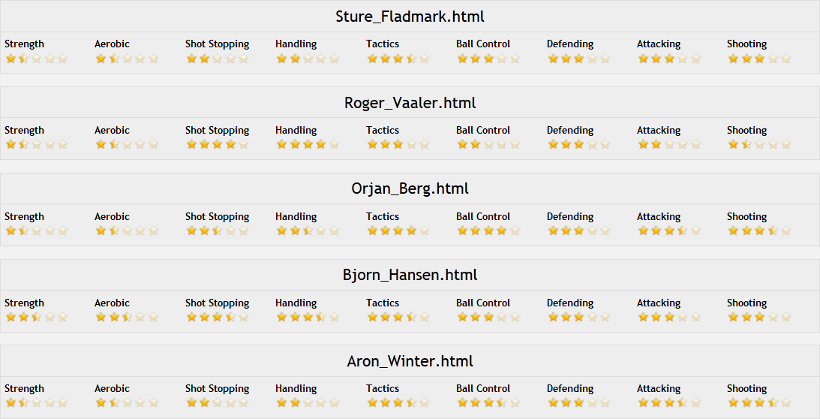 As expected, Ørjan Berg was the best Tactics coach of the lot. He also excels in Ball Control, but I'll still look for another Ball Control coach as I'd really like Ørjan Berg be the Tactics coach. Also, as a bonus, Roger Vaaler proved to be a very strong Goalkeeping coach, so I am definitely going to hire him, too.
Now, Ball Control requires good numbers in the Mental and Technical attributes. My next search, filtered by those attributes, didn't result in alot of potential employees, however there are one strong candidate I didn't screen earlier, Gian Nicola Bisciotti.
Searching for Ball Control coach didn't produce alot of results

Running Gian Nicola Bisciotti through the screener produces
Gian Nicola Bisciotti

And what do you know? He's an excellent Fitness coach! So I definitely want to hire him as that instead. Now to fill my remaining Ball Control slot, I could do either of the following:
Hire Ørjan Berg as my Tactics coach and:

Aron Winter as my Ball Control coach

Hire Ørjan Berg as my Ball Control coach and either:

Sture Fladmark as my Tactics coach
Bjørn Hansen as my Tactics coach
Aron Winter as my Tactics coach

OR: I could keep altering the attribute filtering in my staff search to find other candidates and screen them.
It's really easy when you get the hang of it! And so much for hiring two new coaches. After screening all of them, I ended up hiring four!